Pasta with Clam Sauce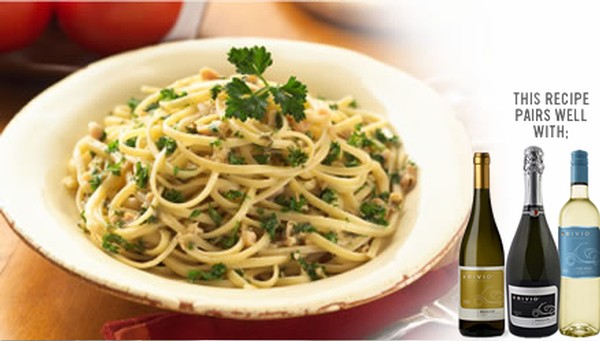 Ingredients
2 Tbsp olive oil
1 garlic clove, minced
1/4 cup each finely chopped carrot, celery and onion
1 can (5 oz/142 g) baby clams, drained, reserving liquid
1/4 cup of Bivio Pinot Grigio or any other dry white wine
1/2 tsp each salt and pepper
1 lb dry Linguine pasta
1/2 cup chopped fresh Italian (flat leaf) parsley

Instructions
1. In a saucepan, heat oil over medium heat. Add garlic, carrots, celery and onion; cook 3 minutes or until onion softens.
2. Add 1/2 cup of reserved clam juice, wine, salt and pepper; bring to a boil. Reduce heat to medium-low and simmer 5 minutes, or until carrots are tender.
3. Meanwhile, in a pot of boiling, salted water, cook pasta 7 minutes, or until tender but firm. Drain pasta.
4. Add clams to sauce and simmer 3 minutes, or until clams are heated through. Toss together drained pasta, parsley and sauce. Serve immediately.
Preparation Time: 10 minutes
Cooking Time: 15 minutes
Makes 4 servings