Braised Veal Shanks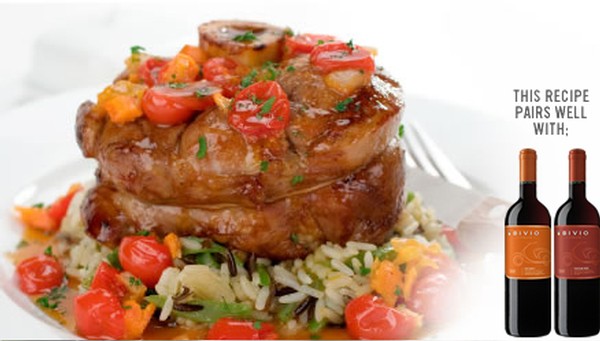 Ingredients
2 tbsp vegetable oil 25 mL
2 lbs centre-cut veal shanks 900 g
1 tbsp butter 15 mL
2 carrots, finely chopped 2
2 celery stalks, finely chopped 2
1 onion, finely chopped 1
1 can (28 oz/796 mL) PRIMO Tomatoes, drained 1
1 1/2 cups chicken stock 375 mL
1 bay leaf 1
1/2 tsp each salt, pepper, dried basil and thyme 2 mL
1/3 cup finely chopped fresh parsley 75 mL
2 garlic cloves, minced 2
4 cups Gnocchi 1 L
zest of 1 lemon, minced

Instructions
1. In large, heavy saucepan, heat oil over medium-high heat. Brown shanks in batches,
approximately 1 minute per side. Remove from pan and set aside.
2. Add butter to pan and reduce heat to medium. Add carrots, celery and onion; cook 15 minutes,
or until softened and lightly browned, stirring occasionally.
3. Stir in tomatoes, chicken stock, bay leaf, salt, pepper, basil, thyme and browned veal shanks;
bring to a boil. Reduce heat to low, cover and cook 2 hours, or until meat is very tender.
4. Combine parsley, garlic and lemon zest; set aside.
5. Meanwhile, in a large pot of boiling, salted water, cook gnocchi 8-10 minutes, or until tender but firm; drain.
6. Serve osso buco over gnocchi sprinkled with the parsley mixture.
Preparation Time: 10 minutes
Cooking Time: 2 hours, 20 minutes
Makes 4 servings