Asparagus Risotto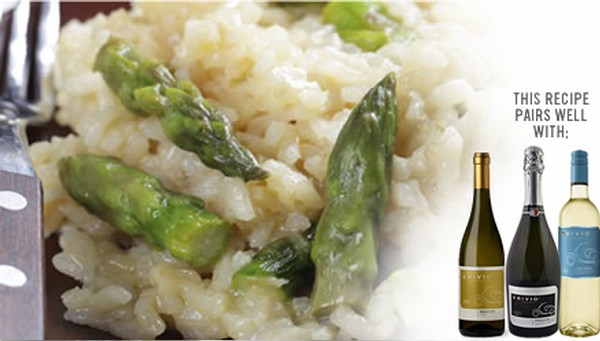 Ingredients
3 Tbsp. Unsalted Butter with 1 Tbsp Removed To Finish The Dish
1/4 Cup Finely Chopped Onion
1 Clove Of Garlic
1 Cup Arborio Rice
1/4 Cup White Wine
3 Cups Chicken or Vegetable Broth
1/4 Pound Fresh Asparagus Cut Into 1 Inch Pieces
1/4 Cup Grated Parmesan Cheese

Instructions
1. Heat the 2 tablespoons of butter in a heavy saucepan.
2. Add the onions and cook until translucent.
3. Next add the garlic and cook another minute.
4. Add the rice and stir until it is well coated with the butter.
5. Begin to add the wine, and stir continually over medium heat until it is absorbed.
6. Start to add 1/4 cup of hot broth, stirring as it is absorbed.
7. Continue in this manner, adding ladles full of hot broth, and stirring continuously.
8. About 15 minutes into the cooking time, add the asparagus pieces and continue cooking for about 20-25 total minutes or until the rice is cooked, but remains slightly firm to the teeth.
9. Remove from the heat, add the remaining butter and the parmesan cheese. Serve, offering additional cheese if desired, and garnishing with the asparagus tips if desired.