Blueberry, Gorgonzola & Walnut Salad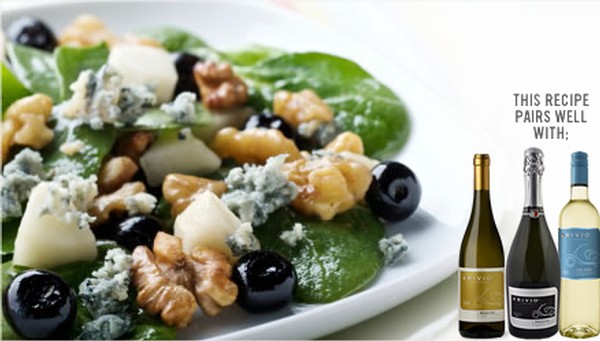 Dressing
½ cup extra virgin olive oil
¼ cup raspberry vinegar (or substitute with balsamic)
1 tablespoon Dijon mustard
1 teaspoon honey Salt and pepper to taste

Salad
1 16-ounce package fresh baby spinach, stems removed, washed
1 pint fresh blueberries
4 ounces walnut halves
1 ripe pear, peeled and cubed
½ cup gorgonzola cheese, crumbled

Instructions
1. To make the dressing, combine the mustard and vinegar until well blended and smooth. Then slowly whisk in the olive oil in a steady stream till combined. Salt and pepper to your liking. Set aside.
2. If needed, wash spinach in salad spinner; spin dry. Set aside.
3. Rinse the blueberries, removing bruised or spoiled ones. Set aside.
4. Wash and cut the pear into ½-inch cubes.
5. In a small bowl, crumble gorgonzola.
6. In a large salad bowl, place spinach, walnuts, and pear cubes. Toss well with half the dressing. Top with blueberries and gorgonzola. Drizzle remaining dressing over the salad. Toss gently until well mixed.
Serves 4 – 6 as a salad course.